HOTEL IN GABICCE MARE ON THE ADRIATIC COAST
Gabicce Mare on the edge of the Adriatic coast is a lively and collected tourist village, famous for its naturalistic beauty, made unique by the promontory of Monte San Bartolo on which Gabicce Monte stands. Beautiful beach, warm and clean sea, many comfortable and welcoming hotels, make Gabicce Mare one of the most fascinating tourist destinations on the Adriatic Coast.
Due to its characteristics it is particularly suitable for families with children, couples and all those who seek recreation and relaxation.
Good air and breezy, excellent cuisine with fresh fish and many specialties of the area are excellent reasons to spend the holidays in Gabicce Mare.
SPECIAL
OFFERS
discover the Hotels in Gabicce Mare with advantageous offers for your holidays.
GABICCE MARE HOTELS OFFERS
Select and book the hotel with the best offers for your holidays in Gabicce Mare
Hotel Continental
Super Low Cost Weeks May And June
Valid from 22/05 to 13/06/2021
Super discounted weeks May and June. Children free up to 5 years up to 13/6. Complimentary 2 admissions to our wellness center.
Piscina
Spiaggia Inclusa
Bambino Gratis
Sconti per bambini
Parcheggio Gratuito
from € 53,00 per person per day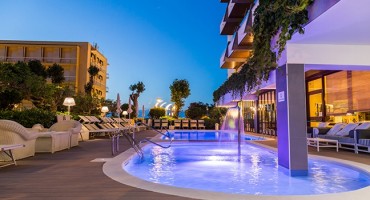 Hotel Alexander
Smart Working ... Holiday!
Valid from 03/04 to 25/09/2021
Move your office to Gabicce and work comfortably from your sea view room!
Ristoranti convenzionati
Piscina
Parcheggio Gratuito
from € 70,00 € 70,00 per person per day
Strand Hotel
Book Early And Much More !!
Valid from 01/04 to 19/09/2021
Book your holiday in advance, here are the benefits: Free child up to 3 years or - 5% discount
Bambino Gratis
Sconti per bambini
Parcheggio Gratuito
5% di sconto
Hotel Cavalluccio Marino
Long Stay Exceptional Proposal -15%
Valid from 01/04 to 19/09/2021
LONG STAY min 3 days - I prepay 50%
Parcheggio Gratuito
Sconti per bambini
Bevande Incluse
Spiaggia Inclusa
15% di sconto
Residence Diffuso Arcobaleno
May Free Beach
Valid from 01/05 to 31/05/2021
May Free Umbrella And Sunbeds
Parcheggio Gratuito
Spiaggia Inclusa
Strand Hotel
June Is Offer Month
Valid from 01/06 to 30/06/2021
June is the month of offers !!
from € 62,00 per person per day
Hotel Vienna
Holidays Without Deposit
Valid from 29/05 to 19/09/2021
Your holidays without a deposit and without cancellation fees
from € 55,00 per person per day
Hotel Sporting
Book First…. Book Now!
Valid from 16/04 to 30/04/2021
At Sporting where you turn ... or see the blue of the sea or the pristine green of Monte San Bartolo!
5% di sconto
Hotel Madison
Early Book Your 2021 Holiday In Gabicce Mare
Valid from 29/05 to 20/09/2021
10% discount for your next holidays
Sconti per bambini
Bevande Incluse
Spiaggia Inclusa
10% di sconto
Villa Rina e Casa Scola
Vacation In Total Safety And Independence
Valid from 30/04 to 31/10/2021
holiday in total safety and independence
from € 400,00 per week
Hotel Promenade
Special June Family
Valid from 28/05 to 20/06/2021
Special June Family
Sconti per bambini
Bevande Incluse
Parcheggio Gratuito
Spiaggia Inclusa
from € 30,00 € 40,00 per person per day
Hotel Romantico
Special Weeks In June
Valid from 05/06 to 03/07/2021
Book your June holiday now! 7 days in a Deluxe Room for 2 people in Half Board All Inclusive
Sconti per bambini
Bevande Incluse
Spiaggia Inclusa
from € 46,00 per person per day
WEBCAM

LIVE FROM GABICCE MARE
EVENTS

IN GABICCE MARE AND SURROUNDINGS