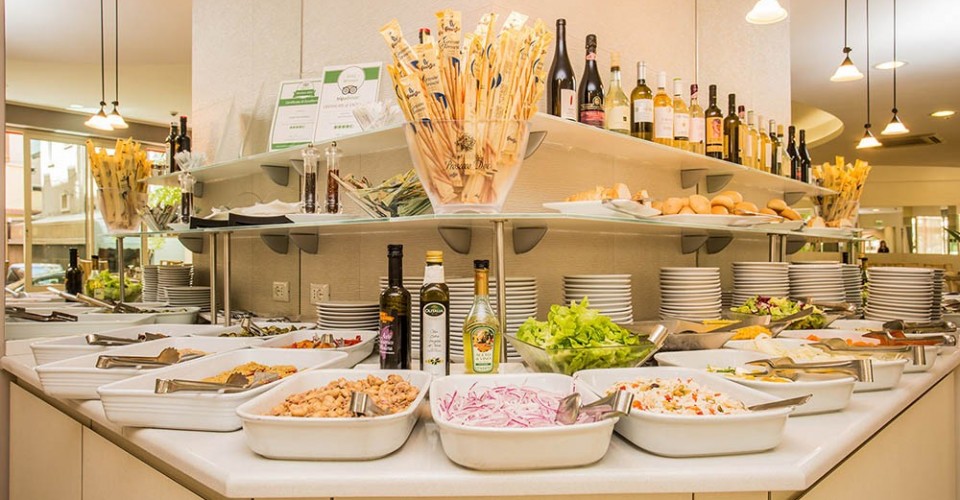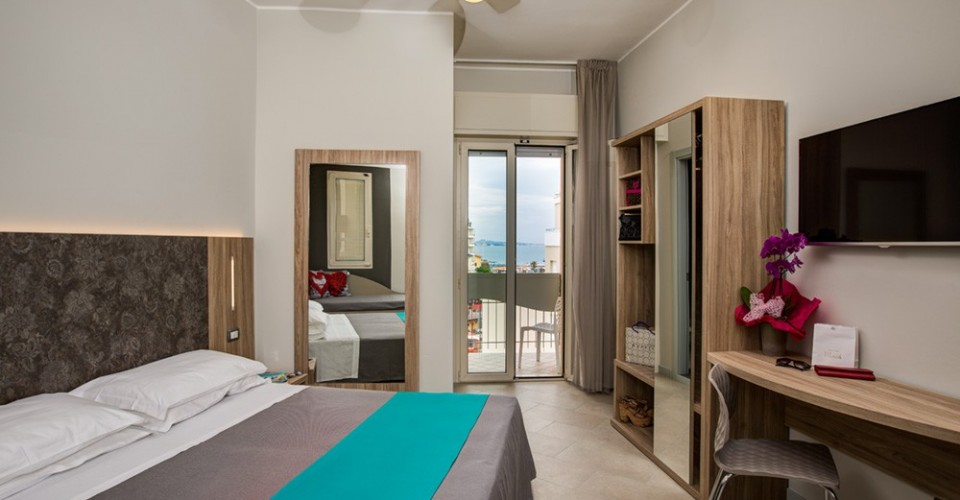 Description
The recently renovated Hotel Romantico is located in Gabicce Mare, on the Adriatic Riviera, in a convenient and central location,
in a quiet area (ZTL) less than 100 meters from the sea .

If you love comfort and are looking for quality of service at the right price at the Romantic Hotel you will find all this and much more.
We have set up four different types of rooms, all new to guarantee you a truly customized holiday.

Our restaurant offers you: comfortable take-away dishes for lunch.
We pay particular attention to the choice of raw materials ,
we use EVO oil, fruit, vegetables, meats and fish are of high quality and safe origin: well-being is combined with taste .
At the Hotel Romantico in Gabicce, even your four-legged friend finds a special welcome. Here everyone loves animals: Skip is the proof, the big dog of the Scola family, always happy and playful, elected by all guests as the mascot of the Hotel, loved by young and old.
With Wi-Fi throughout the hotel, post photos of the sea on social networks
Rooms
The new Deluxe rooms and bathrooms combine comfort, refinement, hygiene and design .
The new furnishings are modern , as are the finishes and fabrics.
The bathrooms are environments full of charm , with an avant-garde design , suspended sanitary fixtures, bright and transparent shower cubicles, walls and floors in ultra-modern micro cement, inspired by the design of the SPA. The lights then fill the space with a warm and enveloping atmosphere . The relaxation light was very appreciated by the guests.
We want every guest to have a special experience , starting from the place where they relax and unpack their suitcase, which is "home" for the duration of the holiday.

Our rooms are sanitized with disinfectant nebulized solutions.
Restaurant
Open for lunch with takeaway food .
We use a lot of attention in the choice of raw materials ,
we use EVO oil, fruit, vegetables, meats and fish are of high quality and safe origin: to eat well and feel good.
The kitchen of the Hotel Romantico enchants your palate with the most appetizing proposals of the Romagna tradition, many fish specialties from fried to skewers, grilled cooked on the grill as in the best maritime tradition but also offers a wide variety of dishes for all tastes .
Family Services
In the kitchen, baby food for the first months of age , soups and vegetable soups, steamed meat and fish are prepared on request.
In the room, child seats and chair lifts, in the room, beds with and without sides and bath tubs.
For a fee, on request, you have a pediatric service.
3 Good Motives for choosing Hotel Romantico
You are in an ideal area: in the center 50 meters from the sea
3 available last minute offers
Hotel Romantico
Your Safe And Free Vacation
Valid from 20/06/2020 to 03/07/2020
Bed and Breakfast
from € 28,00 € 45,00 per person per day
Hotel Romantico
Summer Starts Now
Valid from 21/06/2020 to 03/07/2020
Bed and Breakfast
from € 28,00 per person per day
Hotel Romantico
Special July In Gabicce Mare
Valid from 05/07/2020 to 17/07/2020
Bed and Breakfast
from € 40,00 per person per day
Position
Via Trieste angolo via De Amicis, Gabicce Mare
50 mt from the beach
Services Hotel Romantico
Family Services
Highchairs
cradle
Bed with sides
Bicycles with seat
Baby Sitter
Flexible hours in the dining room
Opening Spaces
Parking
Private outdoor parking
Parking inside the structure
Animals
Internet
WiFi Internet throughout the building
General Services
Heating
Bar
24-hour reception
Lift
Air-conditioned common areas
Hall & lounge
Restaurant
Menu for special diets (on request)
Distributor of coffee and hot drinks
Activities
Position
Rooms
Air conditioning
Balcony
TV
Mini-bar
Telephone
Family bedrooms
Suite
Bathroom
Languages